You are here:
Home
>> Polymer Clay Ideas for Bezels and Settings
Polymer Clay Ideas for Bezels and Settings

This page is dedicated to polymer clay ideas that will help you to create beautiful settings for your cabochons. Whether it's a faux stone, mica shift or beautiful Mokume Gane, the right setting can complement your cabochon to elevate your work to a new level.

I will also be showing you how to make all sorts of different polymer clay bezels. Bezels are such fun to make and so addictive. There are almost no rules to follow. You can put almost anything in a polymer clay bezel to create hundreds of fun and funky designs. Once you start, you won't want to stop. See the tutorials below for a few ideas to get you started.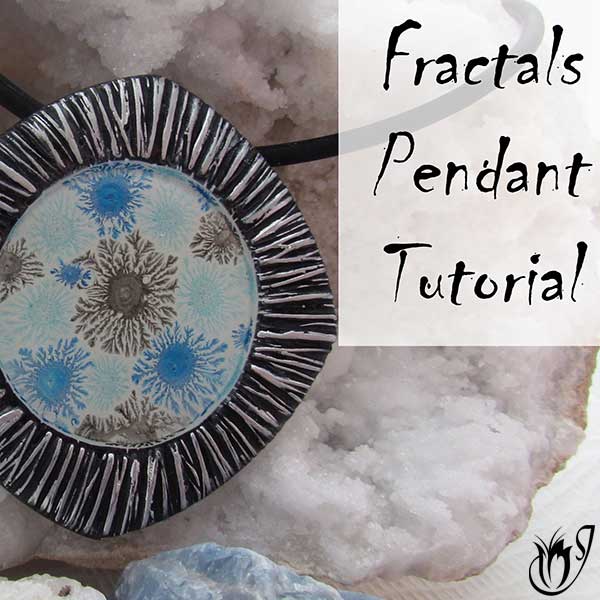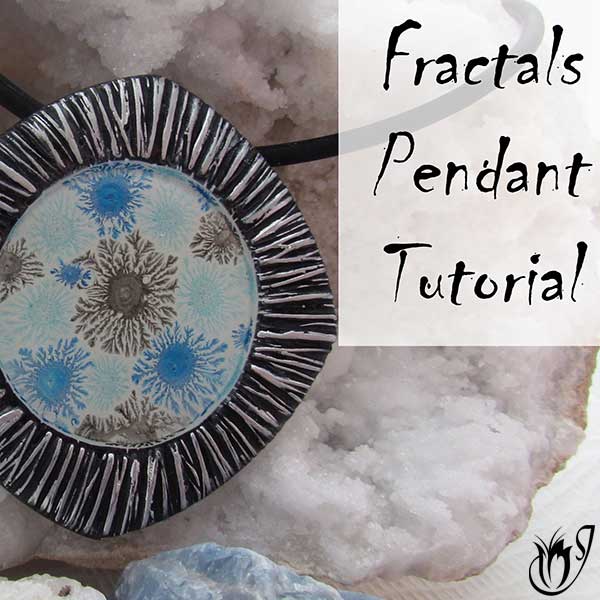 In this Polymer Clay Fractals Pendant tutorial, I'll be showing you how to make your own bezel out of polymer clay, and how to create paint and ink fractals in the center.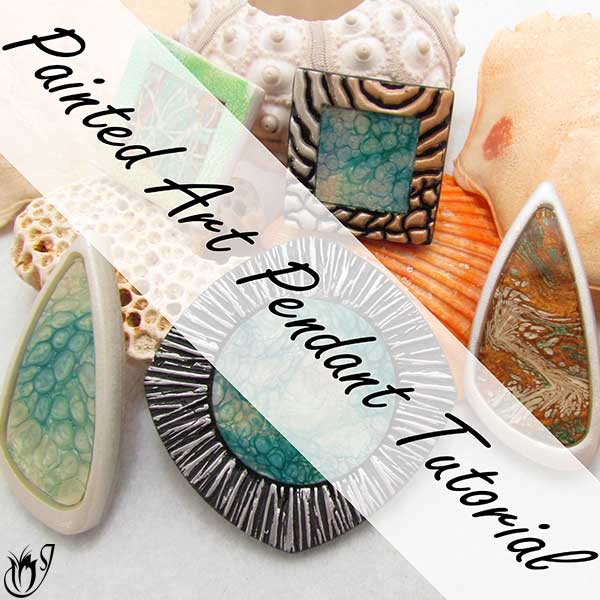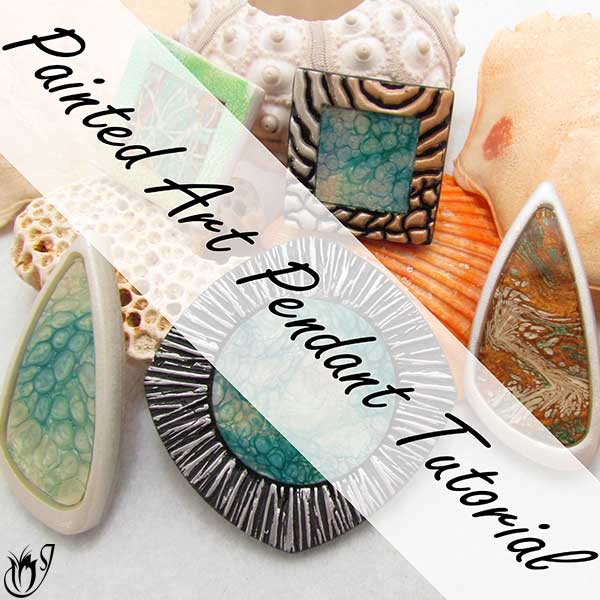 In this tutorial I'll be showing you how to make a painted art polymer clay pendant using your own polymer clay bezel and Pebeo paint skins made with Pebeo Prisme and Moon paints.

I'll be showing a whole lot of different effects that can be achieved with these paints depending on how you combine them. The result can be somewhat unpredictable, so prepare to experiment and enjoy the process.
In this steampunk polymer clay tutorial I'll show you a cool technique I've been working on for a few months now; how to suspend liquid clay sheets in polymer clay bezels.

I'll show a relatively simple liquid clay sheet to demonstrate how to suspend the sheet, but this technique can be used on any liquid clay sheet you make. It's easy, effective and a fun way to incorporate liquid clay into your designs.
In this tutorial we will be having lots of fun with polymer clay image transfers. I'll show you how to use Lisa Pavelka's images, how to crackle them to achieve a mosaic effect, how to make a beautiful polymer clay bezel and much more.

This polymer clay image transfer tutorial is packed with useful tips and tricks, so make a nice cuppa and settle in for a really fun tutorial.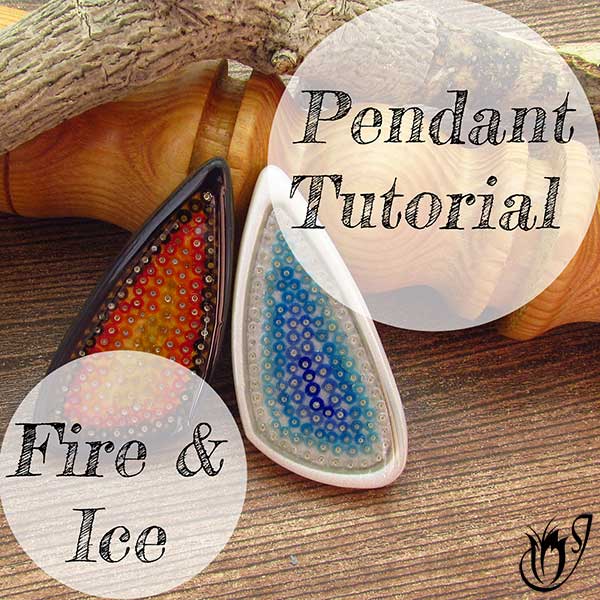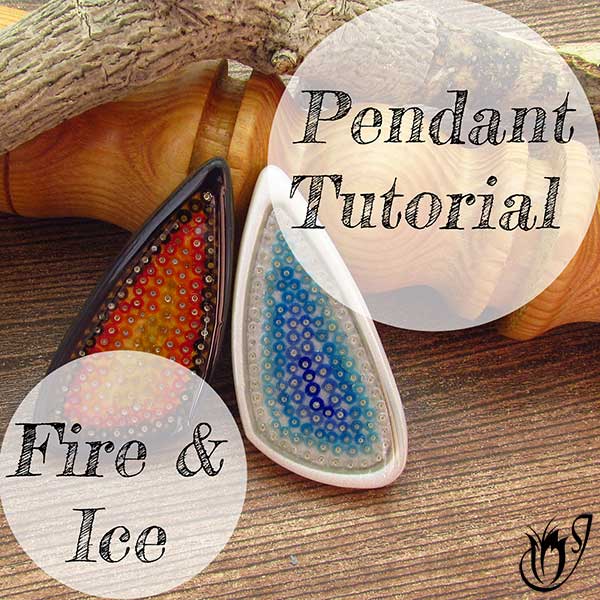 In this polymer clay bezel tutorial I'll be showing you how to make your own polymer clay bezel from scratch, and then how to create my Fire and Ice pendants using them.

These bezels can be used to create all sorts of cool pendants. I'll be doing more tutorials around this idea in the coming months.
In this tutorial, I'll be showing you a cool liquid clay technique that you can use to make your own liquid clay bezels.

You can make them in any size or color, patterned or plain, and you can fill them with whatever embellishments you want to.

There is so much scope to play around with this technique to develop your own ideas, and it's quick and fun too.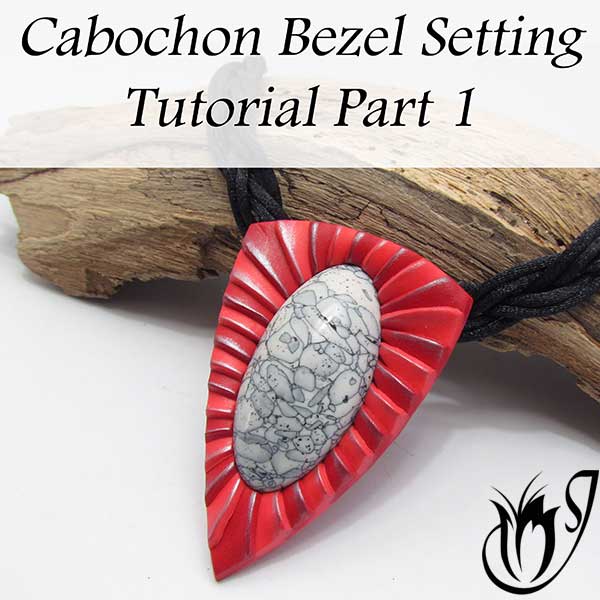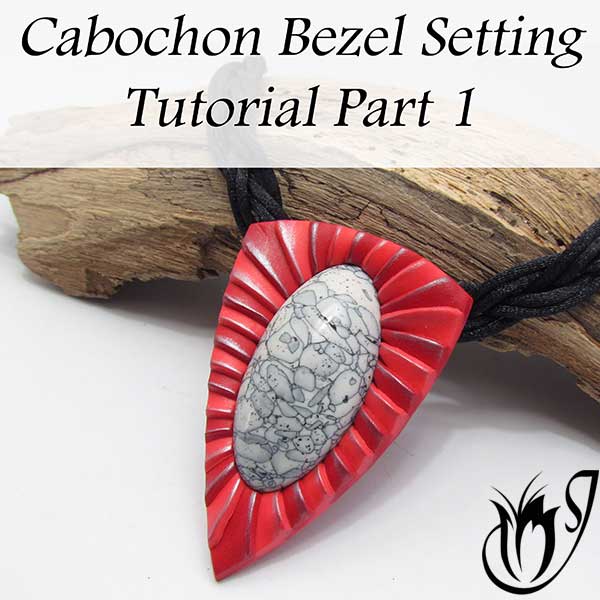 This polymer clay cabochon setting tutorial is part one of a series that I am planning, to show different polymer clay settings that you can use to finish off your cabochon pieces.

This setting is very versatile. You can use any shape or color. You can even use a color graduation if you prefer.  There are all sorts of different ways that you can accent the folds, including antiquing with paint, brushing with mica powders or even using mixative alcohol inks. All of this will be covered in this tutorial.

It's a really simple technique, with a surprisingly effective result. I hope you enjoy it.
I'll be adding many more polymer clay ideas to help with setting your cabocons over the coming months. If you would like to stay up to date with new articles and tutorials as they are released, please join my Facebook Group.

The group is the best place to keep up with all the latest news, product releases and tutorials, and you will have early access to new material before it is released on YouTube or the website. There are also exclusive giveaways and a discount coupon for my shop, JessamaDesign on Etsy.

We have a fabulous group of members already. It's a great place to share, be encouraged and ask all of your polymer clay questions.

If you are looking for something a little more complex, take a look at my Patreon page. The community over there is steadily growing and I have lots of surprises and additional features coming up soon for my Patreons, so do come over and join us. We would love to welcome you. You can also find some of my more complex tutorials at my Etsy shop.

Don't forget to like and share with your friends, so that they can learn too.

You are here:
Home
>> Polymer Clay Ideas for Bezels and Settings