Polymer Clay tutorials, techniques and information

JessamaTutorials.com is designed to be an all in one polymer clay tutorials website with everything you need to learn all about the art of polymer clay.

When I first started out, I struggled to find the information I was looking for. I spent hours scouring the internet looking for tutorials and advice. I wasted far too many dollars on the wrong supplies and tools I didn't need.

This site was born out of my desire to share what I've learned. I hope to save you time, money and frustration, by creating a place where all the information you need can be found in one place. A place where we can all grow on our polymer clay journey together, learning from one another and having stacks of fun in the process!

Join My facebook group

Please come over and join the Jessama Tutorials Polymer Clay Community Group on Facebook.  We have a fabulous group of members already.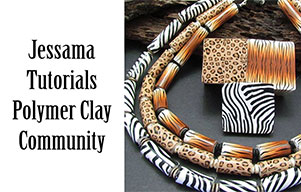 Share, be encouraged and ask all of your polymer clay questions.

Keep up with all the latest news, product releases and tutorials.

Get early access to new material before it is released on YouTube or the website.

Take part in exclusive giveaways.