Watercolour Picture Frame
by Helen Riley
(Beachmere, Queensland, Australia )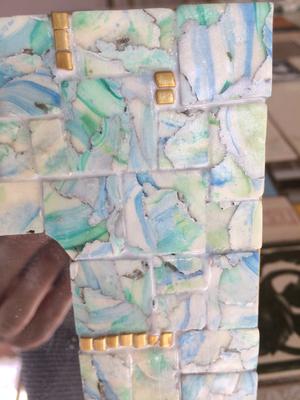 What brand of clay did you use?

Sculpey III



What colors did you use? If you mixed them yourself you can include a color recipe here if you like.

I hand painted white clay with a mixture of blue and green acrylics, as per your tutorial. I used Sculpey transparent on top.



What products did you use? e.g. Lisa Pavelka Crackle Texture Stamp, or Pearlex Antique Copper Mica Powder. (The more detail the better.)

I added little gold jewellery beads to fill large gaps and used regular water based varnish to finish.



Tell us how it went. Was it fun? Easy? Hard? Did you struggle with anything?

I loved it and found it went relatively easily. I did find Sculpey translucent too fragile and watched one of your other videos which compared different brands of clays. I have now moved over to Premo for everything,



Do you have any tips for others trying this technique?

I also used the paper sandwich technique for running the transparent clay through the pasta machine and this was critical.



Anything else you would like to share with
us?

I used liquid clay as a 'grout' as I was a beginner and didn't know any better. I now know that I can use a contrasting clay as the grout (as per your tutorial). I'm a little unsure how a wooden picture frame would cope in the oven when baking though.




Join in and add your own project! It's easy to do. How? Simply click here and fill in the project submission form.