Pink Agate Celtic Weaving Shuttle
by Jo Sullivan
(Houston, AL, USA)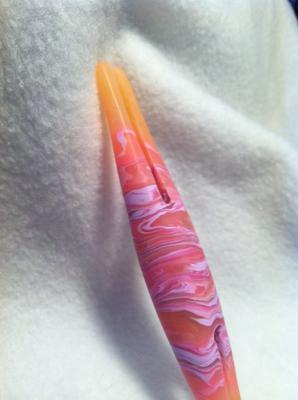 pink agate celtic weaving shuttle
What brand of clay did you use?

Premo



What colors did you use? If you mixed them yourself you can include a color recipe here if you like.

Orange and Pink alcohol ink with translucent Premo (I made my own)



Tell us how it went. Was it fun? Easy? Hard? Did you struggle with anything?

The technique itself is very easy. I loved how it turned out. I look forward to using it again.



Do you have any ideas for variations on this technique?

I need to work on a flat sheet for making a Celtic Shuttle. I'm also wanted drop type 'stones' for earrings and pendants. So much potential in this technique.



Anything else you would like to share with us?

I used the scraps to make a traditional style tatting shuttle, I added a bit of fushia for a natasha bead technique. I love how it turned out. It's hard to see, but there is good depth here with the translucent clay.