Mokume Gane cuff bracelet
by Andrea
(Overland Park, KS, USA)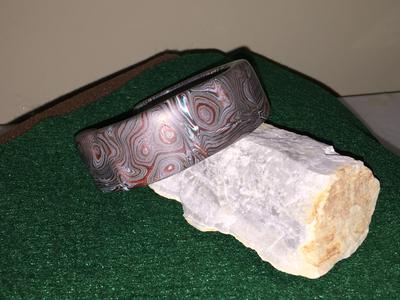 What brand of clay did you use?

Premo



What colors did you use? If you mixed them yourself you can include a color recipe here if you like.

Peacock Pearl, White Translucent, Pearl, and Bronze.



What products did you use? e.g. Lisa Pavelka Crackle Texture Stamp, or Pearlex Antique Copper Mica Powder.

I didn't use gilders paste like you did, but pretty much everything else was completed like in your tutorial. The resulting slices were slightly translucent in places and I placed them on top of more pearl clay to give it a glow from within effect.



Any special tools that other polymer clayers may be interested in?

I used Tiny Pandora's Easy Cuff set for the shape. I also used micro-mesh sanding pads from clay alley for a nice sheen. I don't like to varnish or resin if I don't have to.



Tell us how it went. Was it fun? Easy? Hard? Did you struggle with anything?

It was fun and I enjoyed the result. I do this as a hobby only, so I don't sell my work or anything, so it has to be fun. There are some spots on the edges on the inside that I'm thinking need some love, but I haven't decided what to do there yet.



Do you have any tips for others trying this technique?

Just have fun.



Do you have any ideas for variations on this technique?

I've done a few takes on this and have enjoyed all of them. Choosing the right colors and not overworking the distortion is important.



Anything else you would like to share with us?

I truly enjoy watching your tutorials! You make some beautiful pieces. I'm not a good cameraman, so please excuse the pics - I hope that you can at least get an idea of the piece.