faux agate tatting shuttles
by Jo 'Moziere' Sullivan
(Houston, AL, USA)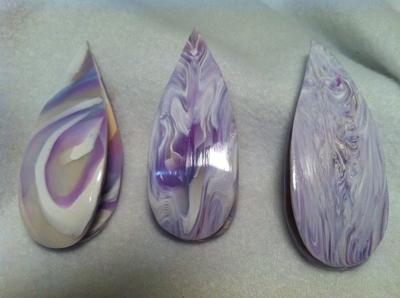 What brand of clay did you use?

Premo



What colors did you use? If you mixed them yourself you can include a color recipe here if you like.

I used white and translucent Premo with homemade alcohol inks.



Tell us how it went. Was it fun? Easy? Hard? Did you struggle with anything?

I really have enjoyed this technique. I've experimented several times and I find it easy, effective and beautiful. It's a technique that beginners will find easy to do. I know, because I'm a beginner. :D



Do you have any tips for others trying this technique?

Try, you really can't fail, because it's different every time.



Do you have any ideas for variations on this technique?

I have thought about making something like an agate slice or a geode. Still working on that one.



Anything else you would like to share with us?

I really enjoy all Samantha's tutorials. She is concise, she doesn't go rambling on about Non-Clay matters. Her information is clear, instructions easy to follow and understand. She has all her tools without having to cover talk while she finds something. Her voice and accent are pleasant to listen to, she doesn't sound like she is talking through gravel. All in all, she is great.